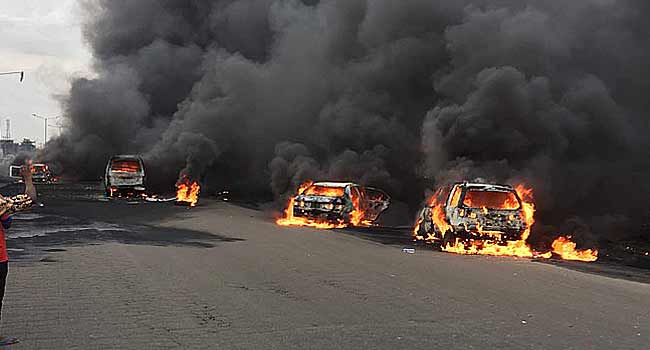 The Lagos State Government will today begin the process of releasing the remains of victims of the Otedola Bridge tanker explosion to their families.
The State Commissioner for Health, Dr. Jide Idris, at a news conference in Alausa, on Thursday, said their release follows the conclusion of DNA forensic examination conducted by the government to ascertain their identities.
According to him, the remains of the victims were taken to the Lagos University Teaching Hospital, LASUTH where they were examined.
"Based on the DNA analysis performed at the LSD and FC, all victims samples were successfully matched to relatives' samples.
"Nine bodies have been successfully matched to nine families out of the 11 families that showed up at the LSD&FC. They are now ready to be handed over to the rightful families for necessary burial arrangement.
"Collection of these remains will commence from 10:00 am tomorrow (Saturday), July 28, 2018 at the Seminar Room of the Pathology and Forensic Medicine Department of the Lagos State University Teaching Hospital, Ikeja," he said.
Twelve people were killed and at least 50 vehicles were burnt in the tragedy which occurred on June 28, 2018.
The explosion occurred when the fuel-laden tanker had a brake failure as it was heading out of Lagos towards the Lagos-Ibadan Expressway.
Many escaped abandoning their vehicles as firefighters later came to the scene to battle the raging blaze.